DO MAKE USE of LINKS,
>SEARCH<
&
>Side Bars<
&
The Top Bar >PAGES<
~~~~~~~~~~#########~~~~~~~~~~
.
Trump-Russia: Flynn charged with 'making false statement' …
.
~~~~~~~~~~#########~~~~~~~~~~
Posted by:
Greg Lance – Watkins
Greg_L-W
eMail:
Greg_L-W@BTconnect.com
The BLOG:
https://InfoWebSiteUK.wordpress.com
~~~~~~~~~~#########~~~~~~~~~~
.
Hi,
inexorably it would seem the noose is getting tighter & closer to the truth that looks like #Donald Trump#s neck!
Trump-Russia: Flynn charged with 'making false statement'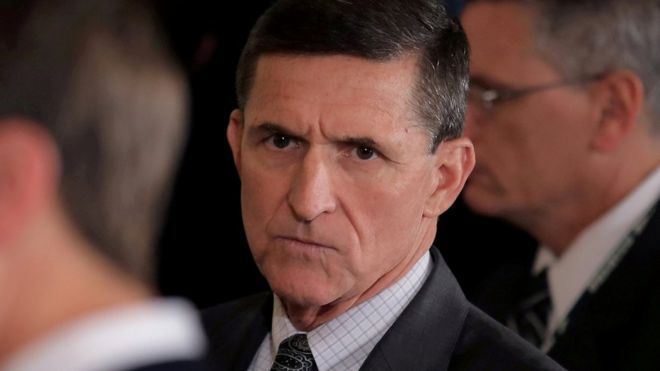 President Donald Trump's ex-national security adviser, Michael Flynn, has been charged with making a false statement to the FBI in January.

Mr Flynn was forced to resign the following month after misleading the White House about meeting the Russian ambassador before Mr Trump took office.

The charges were brought by Special Counsel Robert Mueller, as part of his investigation into alleged Russian meddling in the 2016 US election.

Mr Flynn is due in court shortly.

He is accused of "wilfully and knowingly" making "false, fictitious and fraudulent statements".

He is the most senior member of the Trump administration so far to have been indicted by the Mueller investigation.

In October, Mr Trump's former presidential campaign manager, Paul Manafort, was accused of conspiring to defraud the US in his dealings with Ukraine. It also emerged that another ex-aide, George Papadopoulos, had pleaded guilty to making false statements to FBI agents.
According to the charges faced by Michael Flynn, he is accused of falsely telling FBI agents that on or about 29 December 2016 he did not ask Russia's US ambassador to "refrain from escalating the situation in response to sanctions that the United States had imposed against Russia that same day".
To view the original article CLICK HERE.
.
~~~~~~~~~~#########~~~~~~~~~~
Posted by: Greg Lance-Watkins
tel: 44 (0)1594 – 528 337
Calls from 'Number Withheld' phones Are Blocked
All unanswered messages are recorded.
Leave your name & a UK land line number & I will return your call.
'e'Mail Address: Greg_L-W@BTconnect.com
Skype: GregL-W
TWITTER: @Greg_LW
DO MAKE USE of LINKS,
>SEARCH<
&
>Side Bars<
&
The Top Bar >PAGES<
I try to make every effort to NOT infringe copyrights in any commercial way & make all corrections of fact brought to my attention by an identifiable individual
Re-TWEET my Twitterings
To Spread The Facts World Wide
eMail:
Greg_L-W@BTconnect.com
The BLOG:
https://InfoWebSiteUK.wordpress.com
~~~~~~~~~~#########~~~~~~~~~~